Thank you for taking on the challenge to be the local champion for this effort! Our goal is to make this experience as seamless as possible for you, providing the resources you need for every step along the way. And don't forget – we're here to help if you need us!
Concert fast-approaching and not sure whether you have the time to devote to training? Or feeling like your group might be "all set" without it?
We'd ask you to take just a few moments to learn a little more about the session before you decide. Scroll through the Facilitator Guide or click into our webinar. Even if your group has prayer ministry experience, this training session content provokes incredible discussion and teaches skills around the prayer process that are transferable to all aspects of your life! Those who have attended have given it RAVE REVIEWS – so we can confidently say that your group will find it to be time well-spent! We hope you'll make the time to make it happen!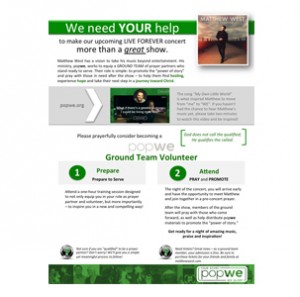 Invitation – Ground Team Volunteers
Send this invitation, along with your personal message, to 10-15 potential volunteers (with the goal of getting 5-10 at the show). Be sure to customize with the date, time and location of your Training Session.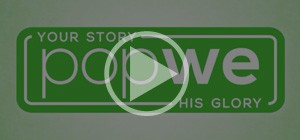 Training Session: The Why Behind The What
This webinar takes a Ground Team Leader through the key objectives and critical learning opportunities within the training session. It is designed to answer all of your questions about why we've included the content we have – and what you can hope to accomplish in each section of your training presentation.
Thank you for accepting the call to be part of this ministry in a very real and purposeful way! Your local training session will provide you with the simple yet effective resources you'll need to feel confident in your role! Here's a quick preview:
If you need a quick refresher following your training session (or if for some reason you are unable to attend a training session) – this brief webinar provides an overview of our simple, 3-step Prayer Process.