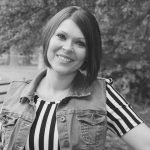 Love, Scripture, and Cupcakes
"This is the story of how I became free." 
Kemberly: I had a very hard life growing up. My parents were alcoholics and I experienced sexual, mental, and physical abuse. But to me, that was all normal. My Mamaw taught me about Jesus and the Bible and I prayed to God every day for 6 years that my parents would stop drinking and doing drugs. However, my prayers were unanswered and I turned to exotic dancing, drugs, and prostitution to find fulfillment. Soon, I became a manager of a Gentleman's club and night club. I made thousands a week but was still lost, sad, hurting, suicidal, angry, unwanted and unloved. I was completely broken.
Then, one day, five women walked into the club during the day. I assumed they were lost and needed directions, but they carried a large platter of cupcakes in with them and said they just wanted to meet us. That was it – they wanted to know my name. That is how we first met. After that, every week they would come in and sit and visit with me and many others. They weren't there to frown upon the customers or shake their fingers in shame at me or the other dancers. They, very simply, walked in, sat down, drank a Coca-Cola or cranberry juice, and asked us how we were that day and if they could specifically pray anything for us. They loved on us.
See, they weren't just loving me through their flesh but through the Holy Spirit. I knew they loved Jesus and served the same Jesus my Mamaw had. I could feel HIM all over them! They never came in or stood outside with a sign saying, "Change your ways!" or anything of the such, which we had seen many do to us before. They would just come in with love, scripture, and cupcakes. Because they showed Jesus to me through their love, I became free and left the night club life. Now, I am living for God every day and sharing my story with others through a book I wrote called, "Anointed for the Night Shift."
"They would just come in with love, scripture, and cupcakes."

In your journal, reflect on what made the five ladies who came inside the club more successful in their ministry than the ones Kemberly had encountered before. Who is God calling you to minister to through relationship?
We hope this story inspired you to act on one of our "Do Something" suggestions, or made you think of your own! If it did- click here to be counted and join us in inspiring others to do the same!
JOIN THE CONVERSATION
We encourage you to comment on this story and how it connected with you or inspired you to act. All reflections are welcome, but we ask that you stay on topic and that you respect other members' viewpoints. We reserve the right to make editorial decisions and/or to remove comments, if appropriate. YOUR STORY, HIS GLORY.
Stories Connected To Love, Scripture, and Cupcakes
Redemption
Beca's mom spent most of Beca's childhood passed out from drugs and alcohol, while her dad was out having affairs with other women. Because of her absent and aloof parents, Beca was cared for by her teenage brothers, which led her to be molested and raped by her brothers' friends. There were many ...

Redemption
Meet Connor. Connor didn't grow up in a typical Christian household and was raised primarily by his older brother. However, during High School, Connor's brother was murdered and Connor was left to fend for himself. Fortunately, Connor's best friend's family stepped in and adopted him. They introduced him to the Bible ...

Redemption
Meet Robert. Robert was addicted to heroin. His addiction was so strong that he couldn't go a day without heroin and was using it all day long. His mother, knowing Robert desperately needed help and wanting him to experience God's presence, brought him to a Matthew West concert.  During the concert, God spoke to Robert ...