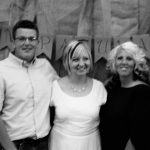 A Saved Miracle
"My name is Lyndsey and I am a saved miracle."
My life was defined by hospital visits and Epilepsy. I was diagnosed with Epilepsy at two years old. Growing up with this diagnosis caused me to become broken and hurt with no acceptance from kids who I grew up with. As I got older, things got worse. Seizures came more often and so did the bullying. I was so angry at God. I was jealous of normal people and listened to the world as they told me, "You are a mistake."
Then, one night, I finally broke. It was the last day of summer and my mind was wandering, lost in the storm of bad thoughts. I was in my bedroom thinking about the multiple seizures I had the day before, thinking about what it was going to be like going to school the next day. They were going to bully me. They were going to call me names. Finally, my head became so full of these terrible thoughts that I screamed out, "Lord, why did you do this to me?? Why did you give me epilepsy?" Then, I got a warm sensation and heard these words like a fire in my soul, "Lyndsey, I made you perfectly so that you could tell your story. I made you a saved miracle. So forgive the past hurt and forgive yourself."
The next day at school, there was no bullying. In fact, a Christian girl invited me to her youth group that day. Since then, I see what God meant. Every day I see beauty in the world and in myself. I see the way He sees me: a storyteller and a story seeker. Now, with God's help, I was accepted into Taylor University to study art therapy so that I can help thousands of special needs youth in and out of work.
"I may be different and have seizures, but with a heart full of God and a big dream, I will join God's work in the world." In your journal, write your own Psalm to the Lord. Cry out to God with the confidence that the Lord listens to us when we come to Him with our needs (1 John 5:14-15).
We hope this story inspired you to act on one of our "Do Something" suggestions, or made you think of your own! If it did- click here to be counted and join us in inspiring others to do the same!
JOIN THE CONVERSATION
We encourage you to comment on this story and how it connected with you or inspired you to act. All reflections are welcome, but we ask that you stay on topic and that you respect other members' viewpoints. We reserve the right to make editorial decisions and/or to remove comments, if appropriate. YOUR STORY, HIS GLORY.
Stories Connected To A Saved Miracle
Wonderfully Made
That was the first sentence of this young man's story. As a two sport all-star athlete in high school, Jordan received a college scholarship to run track and play football at a university in Kentucky. During his sophomore season, Jordan broke his ankle.  That is when he received his first prescription to Oxycontin.  His  ...

Wonderfully Made
Tim was born with Cerebral Palsy. He is paralyzed, his speech is slurred, and he has many health issues that prevent him from living life like a normal High School kid. But the smile on Tim's face would make anyone forget that he has any disability. His joy is radiant. Tim attended one of ...

Wonderfully Made
For years, Jennifer dreamed about meeting her birth father. When the day finally came to sit down with him for the first time, he told her that she was a mistake. Growing up, "you're ugly," "you're stupid," and "you're worthless," were the only affirmations Jennifer heard from those around her. Jennifer's ...